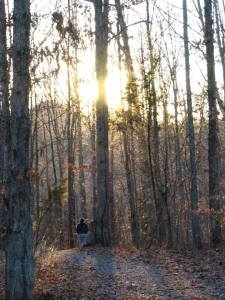 The Central KY Wildlife Refuge is offering an opportunity to escape the inevitable stress that comes with the holiday season.  On Saturday, December 22nd the Refuge will host two separate hikes.
The first will start at 10 am and will be the more strenuous of the two.  This hike will go up the Ridge Trail and around the Circle Trail.  Due to the steepness of the Ridge Trail this will be a moderately strenuous hike.
The second hike will leave the parking lot at 2 pm.  Hikers will go up the Blue Trail, down the Brooks Hollow Trail, access the North Rolling Fork via the Roy Ellis Fork Trail, and return on the Woodland Pond Trail.
Both hikes will be approximately two miles in length.  Participants should dress for the weather.